Van Agen Sod Family Farm History
We are a sixth generation farm family that originally immigrated to America from Belgium settling in Roseville, Michigan. Our grandfather, Frank Van Agen, was interviewed in April 1957 in an article in the Roseville Times, titled "Van Agen Farm, Last in Erin Twp., The article states "…that the Van Agen place has served four generations of the family since 1852 in October…when Rosalie Van Agen arrived in Erin township (then called Orange), she carried in her arms, her infant son Henry."
Frank Sr. (Rosalie's grandson, pictured) recalled horse-drawn wagons having to pay tolls at Utica and Eight Mile roads. He also recalled the construction of the Durand United Railway between Port Huron and Detroit. Frank was quoted as saying "…the land in 1852 cost $30.00 an acre. Land in Grosse Point was much cheaper, but it was swampy and this land was high and dry." At the time, the farm was comprised of 200 acres of fertile land and horses were used to work the ground. While Grandpa Van Agen saw the advantages of modern technology (tractors), he did point out that "The tractor deteriorates daily in value, whereas your horse investment remains the same or possibly grows."
The farm attained centennial status and began growing sod in 1954. Frank and his wife, Loretta, went on to have four children, Cy, Frank Jr., Catherine and Leo. In 1956, the construction of I-94 cut through the farm, dividing it into three pieces. Unable to prevent this from occurring, Cy and Leo, along with their young families, relocated to Bancroft Michigan in Shiawassee county. Their brother, Frank Jr., remained in Roseville and served as the bookkeeper. They began producing sod in that location with the intention of picking up new business in other areas of the state. Ironically, the majority of sod was, and still is, sold and shipped back to the metro Detroit area.
In the late '70's, the three brothers introduced tree stock to the farm. They remember being overwhelmed when their first load of 600 trees arrived. However, the trees proved to successful and by 2005, we offered 80 different varieties and planted between 22,000 and 25,000 trees each spring. Cy and Leo's wives, Monique and Gerry, assumed the roles of bookkeeping and what is now known as customer service. This was in addition to raising the youngest generation of Van Agens'.
Sod and tree sales were successful and represented an equal percentage of sales until the recent economic situation. Both tree and sod sales dropped and we added soy beans and wheat to our crops. In 2009, the difficult decision was made to discontinue tree production.
Leo's wife, Gerry, assumed the role of office manager after Frank Jr.'s death. She has since retired and her daughter, Carolyn, has taken over that position. Despite the deaths of Frank, and later, Cy, the farm continues to flourish. Leo and his sons, John and Marc, are still in the fields overseeing the crops and doing what they enjoy the most: driving tractors and other heavy equipment.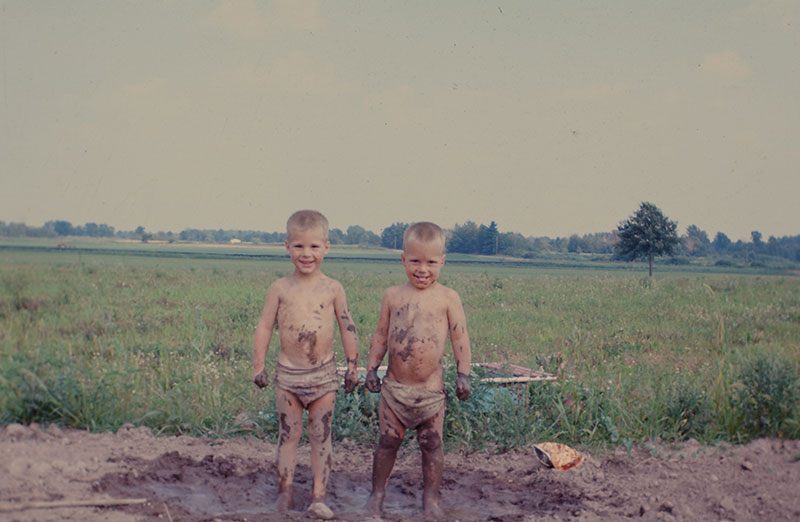 Our farm continues to work hard to produce high-quality turf grass and trees for nurserymen and homeowners here in Michigan. Our sod and trees have also been sold in Ohio, Illinois, Indiana and Canada.
We are proud of our family heritage. Each generation continues to pass on the values of hard work and integrity to their children. We are very happy that the newest generation of Van Agens' are enthusiastically learning the ropes of the business in order to carry on the family tradition.